Welcome back to Three Up/Three Down, where we look at which athletes, trends and gear are running hot or running cold in the sports memorabilia world.
Matt Lane, vice president of Sports Images Inc., provides the official 411 on this ever-changing industry.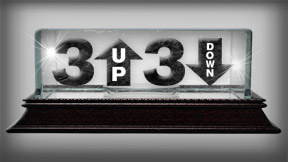 ESPN.com illustration
THREE UP
1. Pennant Races: Where to start? The AL East, NL East and NL West races are really heating up. While the Tampa Rays and New York Yankees duke it out, Carl Crawford, David Price and all Yankees items are starting to sell fast. The Atlanta Braves and Philadelphia Phillies are buying anything they can get their hands on right now, with rookie Jason Heyward and Roy Halladay leading the way. The NL West battle has items for rookie Buster Posey, Ubaldo Jimenez and the unknowns from the San Diego Padres are selling fast.
2. Monster mugs: Perhaps you've already seen these mugs. Here's how they work -- stick this thing in the freezer for an hour and the "crushed ice" crystals keeps beverages cold for hours. Oh, and they can hold three whole beers (or root beer for the younger fans). Available in your favorite MLB, NFL, NBA and NCAA teams now! So drink up longer and colder. No wonder these are flying off the shelves.
3. MacFarlane Figures: Todd MacFarlane brings that "Star Wars" figures feeling back with a collection of NFL, NHL, NBA, MLB and college football heroes. No detail is left out from the classic poses, jerseys and patches -- even dirt on their uniform in some cases. The newest versions are the "collectors level" variants of many current figures with different uniform colors, additional trophies added. While those are definitely hot, if you can get your hands on an autographed version, do it. Those are pretty rare and keep going up in value.
THREE DOWN
1. Mark Sanchez & the Jets: The New York Jets were tough to watch in Week 1 and all NFL fans are waiting in anticipation for the Week 2 matchup with the New England Patriots. Expect Sanchez (his memorabilia) and the Jets to rebound soon, but for now, sales are on hold until Rex Ryan's group starts delivering more on the field and less on HBO.
2. Terrell Owens: OK, he wasn't exactly a fan favorite to begin with, but the novelty of T.O. (or anyone notable) on a new team definitely sells a few jerseys. But the Week 1 stinker by the Cincinnati Bengals, highlighted by Owens heading to the locker room before the first half was even over, could lead to a quick route to the discount rack for all things T.O.
3. Flailing Big Payroll Teams: The Boston Red Sox and New York Mets paid out some big money the past several seasons for Dice K, Jason Bay, K-Rod, and J.D. Drew but being out of the pennant race has brought sales of these two teams to a crawl. Expect the Red Sox to be back in 2011 when the roster is finally longer than their disabled list. The Mets don't seem built for an October run any time soon. Add to that all the empty luxury seats at Citi Field you see on television and the buzz for the dudes from Flushing is DOA.