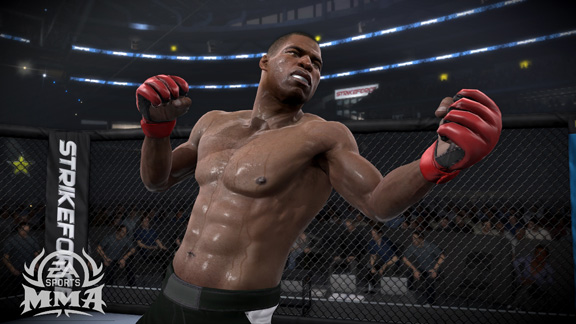 EA SportsPre-order "EA Sports MMA" at GameStop to unlock Herschel Walker as a playable fighter.
Herschel Walker was one of the most dominant "Tecmo Bowl" forces back in 1988. In fact, handing Walker the rock was pretty much the Cowboys' only weapon back in the NES era.
Who would've thought that in 2010, Walker would be making his return to video games not as a legend in "Madden," but in "EA Sports MMA"? Gamers will be able to put this football superstar turned Strikeforce fighter to the test against everyone from Bobby Lashley to Fedor Emelianenko.
Walker is an exclusive downloadable fighter offered to fans who preorder "EA Sports MMA" at GameStop. When told he was going to be featured in the upcoming game, the man seemed stunned.
"I think I'm the only guy to be featured in two EA Sports games like this, going from 'Madden' to 'MMA,'" Walker tells me during a recent Strikeforce event. "It makes me feel good, and I'm happy to be in the game. It's an honor for me because getting the chance to be in MMA, I've met a lot of incredible people. There are a lot of incredible athletes, so it will be fun to see how I do against them in the game.
"I get a lot of fans who come up to me and tell me how they used to play as me in 'Madden' or 'Tecmo Bowl' when they were kids, but I'm looking at these guys, and they're old now. I don't know if that makes me feel too good. But now their kids are going to play as me in 'MMA.' EA Sports is just a phenomenon the way people play these games and act like what the characters do is real. It's amazing."