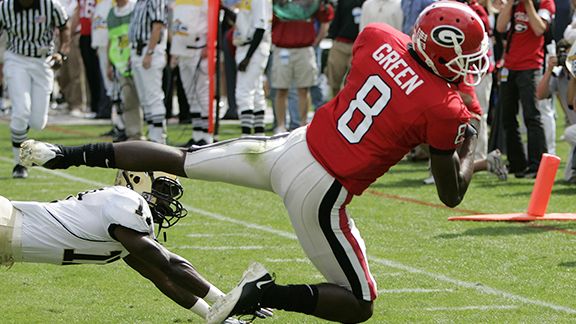 AP Photo/John BazemoreAJ Green definitely didn't think he would get a four-game suspension for selling a jersey.
Chris Hawkins, the man at the center of the AJ Green jersey controversy, joined WQXI in Atlanta to explain just who he is in light of NCAA allegations that he is misrepresenting himself.
Whether he has had some angry people reach out to him via Facebook:
"Yeah I get a lot of Facebook messages, a lot of Facebook threats. There has been a lot of heat coming my way over something, the jersey and what happened to AJ Green. Just have been taking it all in."
Whether he has ever gotten in contact with a player and put them in contact with an agent:
"No, I have never done that. The whole AJ Green thing was totally different. I collect, I have got a lot of jerseys in the basement. I put them on the walls. If I like players and I like someone I will get their stuff and I'll get in and put my stuff and just hang it on the wall. The AJ Green thing was more bragging. I think he is going to be a great player. I think he is going to be a great player at the next level."
Whether he has talked to the NCAA about who he is:
"Yeah I spoke with the NCAA numerous times. The whole thing with the AJ Green thing they tried to put it out that I wouldn't contact them on it. I went out to the University of North Carolina and spoke with the NCAA on behalf of the whole UNC guys. I played at UNC, I had a relationship with those guys and they try to make it seem those guys are coming to me for advice and hanging out with me that I was standing with agents. All it was is the guys they really look up me over there at Carolina, they look up to me a lot. They knew that I was around the game and that I knew a lot about it. I work with my friend, Willie Parker, who is a professional athlete, and did a little with agents and sutff like that. I am more like a manager to him. I knew a lot about the game and I knew a lot about the agent game because I have been through that. The whole AJ Green thing I think it was totally different. The NCAA contacted me on it and put a report out there saying that I wouldn't talk to them. I spoke with the NCAA guy, I think his name is Chance Miller. When he called me from the University of Georgia he was with the University of Georgia's lawyer, at the time when he called me I was busy. I was doing something. I told them that I would call them back and we set up a time to call back and when he gave me an extension, I called back the extension five times and it was the wrong extension. It didn't work. Once he talked to me he called me the next day and I was like, 'You, you gave me the wrong extension number.' And he was like, 'Yeah, yeah. My fault, my fault.' It went from there and he set up another time, I think it was like a Monday at 3 o'clock or something like that. He gave me another time for a conference call and that time I was busy. I don't work for the NCAA. I don't work for those guys. I'll speak to them when I can if I am available but I just don't drop everything I do. I try my best to help those guys out."
How often he has spoken to AJ Green and when the last time he spoke with him was:
"We really never contacted each other like that. I might have talked to him maybe about four times, you know? and I never talked to him about ... "
Whether he was talking to AJ Green about his game and that he is a fan:
"That was it. Basically I know a couple of people that he knows. I know a couple of girls he knows and the only thing that I have ever talked to him about was, after I got the jersey, I didn't talk to him about anything about football."
• Click here for a transcript of highlights from the interview