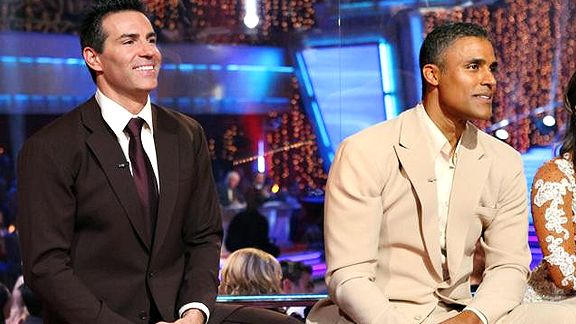 Adam Larkey/ABC/Getty ImagesKurt Warner and Rick Fox should be safe for a few weeks, says ESPN broadcaster Erin Andrews.
ESPN broadcaster Erin Andrews said the two athletes -- Kurt Warner and Rick Fox -- on ABC's "Dancing with The Stars" are going to surprise a lot of people.
"They are talented. They take care of their bodies and they both have won world championships," said Andrews, who finished third in the spring edition of the show. "I think they will fly under the radar for a while."
On Monday's opening night, Warner -- a future Hall of Fame quarterback -- danced the Viennese Waltz with partner Anna Trebunskaya and scored a 19 out of 30, pretty much in the middle of the pack of the 12 contestants. And ex-NBA All-Star Fox, with partner Cheryl Burke, scored a 22, also doing a Viennese Waltz.
The top scores went to favorites actress Jennifer Grey and Derek Hough, who scored a 24. In second were actor Kyle Massey-Lacy Schwimmer and singer Brandy-Maks Chmerkovskiy at 23.
Chmerkovskiy was Andrews' partner in the spring, and Brandy is happy with the pairing. "He's pushed every button in me already," she said. "He's a great teacher, but he's hardcore. I like following him. I don't want to be the leader!"
The three lowest teams were comedian Margaret Cho and Louis Van Amstel (15), reality star Mike "the Situation" Sorrentino and Karina Smirnoff (15) and actor David Hasselhoff and Kym Johnson (15).
Tuesday night will be the first elimination, so expect Cho, Hasselhoff and Sorrentino to be sweating it out.
Andrews misses the excitement of the show and just hanging out with the dancers and other stars.
"Doing the show can be a life changer," said Andrews, who is a college football broadcaster and a correspondent for "Good Morning America." "Before, a lot of men knew me from my football coverage. But now when I show up at games and go to the bathroom, women stop me to take my picture because they watched me on that show. I really do miss it."