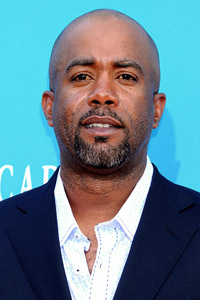 AP Photo/Tammie ArroyoNFL fans can make picks against country star Darius Rucker.
Country singer Darius Rucker is obsessed with football. He's in three fantasy leagues and talks football anytime he's not playing music. And now he's teamed with Athlon Sports to create End Zone Obsession.
"I'm so passionate about football, just like I am about my music," said Rucker, whose second country album, "Charleston, SC 1966", is out Oct. 12. "So I thought it would be challenging for people who love football to pick some winners and win some prizes."
It's actually quite easy: Participants pick the winners of each NFL game every week and earn points for each correct prediction. At the end of each round, the 10 highest point earners will receive prizes. The three fans with the end-of-season highest cumulative point totals will also receive awards, with the top point earner winning a grand prize trip for two to Hawaii. Fans also have the ability to compete against one another, or against Rucker.
"I'm playing with all my friends and bandmates on the road," said Rucker, who is touring this fall with Brad Paisley. "I'm having a ball out here. We're not out here curing cancer. We're playing music and having fun trash talking about football."