When Bill Ewe, a physical education teacher in southern New Jersey, approached the principal at the middle school where he works about adding skateboarding to the curriculum, "he looked at me like I was a little crazy," Ewe said.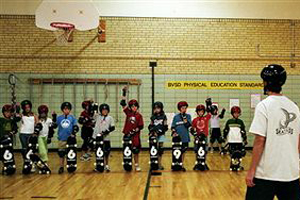 David S. Holloway/GettySkate Pass co-founder Eric Klassen teaches students at Boulder, Colo.'s Douglass Elementary, the first school in the nation to adopt the program.
But Ewe, a longtime skater who played college baseball, showed his bosses a news clip demonstrating how a skateboarding program had been successfully integrated into gym classes at a California high school.
Soon district officials approved Ewe's proposal, and last spring students at Kingsway Middle School in Swedesboro, N.J., began pushing and kickflipping for credit.
"The kids had a blast," Ewe said about a system that emphasizes balance, agility, coordination, self-esteem and perseverance over trying to become the next pro. "A 42-minute class period was gone like that."
With a new academic year starting earlier this month, Ewe plans to resume skate-school for students in seventh and eighth grades.
"We always try to find something new and innovative to attract the attention of kids," Ewe said about a national trend in education called "The New P.E." that stresses alternative, individual and non-competitive activities to appeal to students who aren't necessarily natural athletes.
As some schools wave good-bye to dodgeball, they've welcomed other sports such as rock climbing and skateboarding.