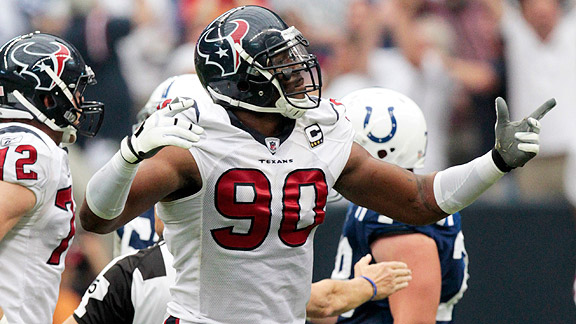 AP Photo/Bill BaptistExpect Mario Williams and the Texans to keep up their hot start against the Cowboys.
In 2008, ESPN the Magazine's NFL preview featured a cool picture of the Texans' Mario Williams shattering some imagined glass-like barrier into a thousand different pieces. I spent a week with the team during camp that year putting together a piece to accompany that photo about the Texans finally breaking through as an elite team in the NFL.
Looking back, though, the signs weren't all in place. They didn't have a sense of urgency. They had a mental block against the Colts. The Texans had talented players, stars even, who hadn't quite grown into leaders just yet. They were explosive on both sides of the ball, but not balanced. They showed flashes of greatness, but not consistency.
They just weren't ready then.
But, look out Dallas, they are now.
The Texans' offense features potential MVP Andre Johnson, quarterback Matt Schaub, who took a beating while carrying the team to a comeback win against the Redskins in Week 2, and the NFL's most unlikely rushing leader, the undrafted Arian Foster. Meanwhile, the Texans' front four on defense, led by the freakish, dominant Williams (who already has four sacks), is talented and balanced enough to support a young and inexperienced secondary.
The final step in the Texans' ascension should come this weekend when they fittingly send the Dallas Cowboys into 0-3 oblivion and turn America's Team into the second-best franchise in Texas.
• Click here to read this entire Insider article by David Fleming

• Click here to read Fleming's one-sentence summary of a decade of QB misery in Buffalo