There are a few reasons why Don Nelson's ouster as Golden State Warriors coach isn't much more than a footnote to the start of an especially anticipated NBA season.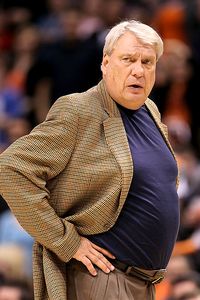 Christian Petersen/Getty ImagesCan NBA fans honestly say they won't miss the flair and elegance of the swashbuckling Don Nelson?
Nellie leaves as the league's winningest coach, but his 1,335 wins also came with 1,063 losses, many due to his adherence to a circus-style brand of basketball. And let's be honest, last season, he was barely a coach. The Warriors guarded no one. Monta Ellis and Stephen Curry free-wheeled all season, and for the games in which Nellie was actually on the bench, assistant coach Keith Smart (the new head coach) could often be seen running the huddles. When you think about it, Nellie went through the motions last season as if he was already retired.
But now that it's official (although Nelson could always return to the bench to scratch an itch), we gotta admit that we're going to miss the old dude. This is a guy who, during the 2007 playoffs, made a brief habit of turning the postgame news conferences into a bar and conducting interviews swigging cans of beer -- until David Stern put the kibosh on Nellie's happy hour. What's going to happen to mock turtlenecks in the NBA? George Karl is still around to carry the torch, but Nellie will always be the master of frump. Nobody tucked a mock turtleneck under his gut quite like Don Nelson. He was almost a one-man counterculture to all the well-tailored NBA coaches.
You had to dig his demeanor, too. It toggled between nonchalance and red-faced rage. Either he was reaming an official or smirking on the bench as his squad ran roughshod, up and down the court in mildly organized chaos. He's also one of the last of a dying breed of coaches who couldn't care less about decorum, tact or mock pleasantries when it comes to those annoying, televised in-game interviews. Most coaches put on a good disposition. Not Nellie. Like Gregg Popovich, you could tell by Nellie's scowl or the brevity and testiness of his answers whether he was irritated, angry ... or just plain ol' disinterested.
Yeah, Nellie's going to be missed. NBA scoring is really gonna miss the old man. Expect the league scoring average to plummet now that teams will no longer be able to drop 185 on the Warriors.