"Big Brother 12" star Britney Haynes, fresh off winning the show's fan favorite award, is back amongst her people.
A life-long Arkansas Razorbacks fan, Haynes is in Fayettville, Ark., for Saturday's game with No. 10 Arkansas vs. No. 1 Alabama, a game she said is the Hogs' biggest game in decades.
"In 2004, we played Texas, that was huge," she said. "A few years ago, we played USC and that was huge. This is bigger than both of those. It's going to be madness."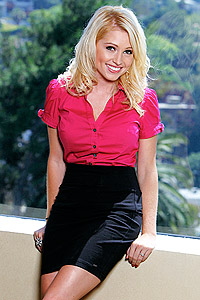 Courtesy of CBSBritney Haynes was a contestant on Big Brother 12 this year.
Haynes, 22, who said she's been going to Razorback games since she was a little girl and who frequently wore Arkansas gear on the show, started reeling off the reasons why she thinks Arkansas can upset Alabama. She's predicting a 27-24 Razorbacks victory over the defending national champions.
"We have the best quarterback in the country," she said, saying Ryan Mallett would put himself atop the list of Heisman candidates with his performance in the game. "Our amazing passing game is going to really test the Alabama defense this weekend.
"We're going up against the defensive mastermind with [Alabama coach Nick] Saban, but I think we can pull it out. I think his defense is going to be too complex for his young secondary to grasp. We have to take advantage of that."
Haynes, who was a hotel sales manager before going on the show, said football is a passion of hers, and while she's happy going back to her life before the show, she hopes the exposure from the show will allow her some new opportunities. She's not ruling out moving from Arkansas, particularly because she found out that her house caught fire while she was sequestered in the Big Brother house.
"I'm hoping that somehow I can parlay the experience from the summer to work in the sports broadcasting industry," she said. "That's the ultimate dream for me. That's definitely something I've been considering since I left the show."
She said she's a huge NFL fan and her favorite player is Donovan McNabb, so she's a first-year Redskins fan. She loves Brett Favre, and she likes Tom Brady and the Patriots.
"I love Tom Brady's hair. It reminds me of Hayden's," she said, talking about her mop-headed housemate on Big Brother who was this season's winner. "I think Tom Brady watched Big Brother, saw Hayden's hair, and decided to go for it," she joked.
But none of them can compare to her Razorbacks.
"If you grow up in Arkansas, you're a Razorback fan," she said. "We have no pro team here, so they're like an NFL team to us."