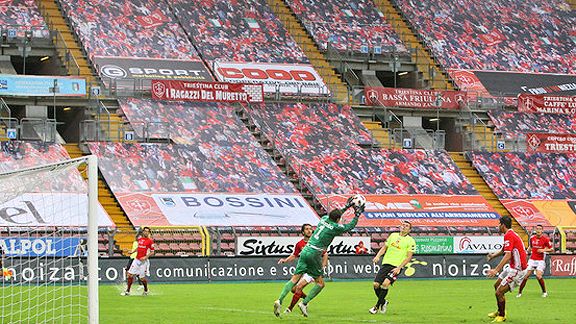 Andrea LasorteVirtual fans line the stands to watch the Triestina-Padova soccer match in Trieste, Italy, on Sept. 18.
Attention: Florida Marlins and Tampa Bay Rays, Jacksonville Jaguars and Tampa Bay Bucs, and anyone outside of depressed Florida that cannot fill your bleachers and grandstands.
We have your salvation -- straight from Italy.
No, not "Free Pizza Night," although that's a good one. Your salvation comes from Triestina, a Class B soccer team from the city of Trieste. Their players were shocked last weekend when they ran into their stadium for a match and discovered that one side of the grandstands were completely full with about 10,000 spectators. The usual crowd is less than 5,000 in the entire stadium.
But then it got really weird. The 10,000 didn't make a sound as the players hit the pitch. And the 10,000 didn't move. Why?
They were a "virtual crowd" -- two-dimensional images printed on vinyl and stretched across the empty seats. OK, they weren't too inspirational, but they looked great on TV. Not only that but it really saved on ushers and guys to sweep up after the scoreless tie. Just roll them up and put them away until the next match.
Genius.
"We'd love to have a full stadium with real supporters," said team general manager Marco Cernaz, "but the reality is that we can't. This way at least we create a bit of atmosphere, a bit of theater."
In Miami, St. Pete, Tampa and Jacksonville, there are GMs excitedly nodding their heads right now.