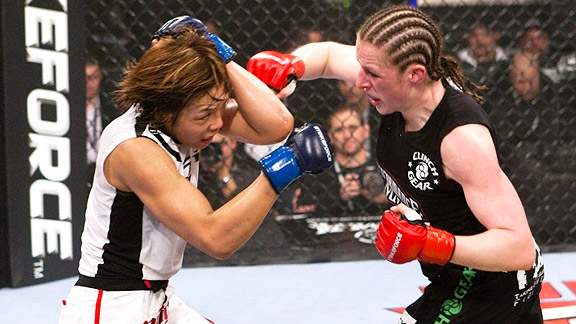 Esther Lin/STRIKEFORCE Sarah Kaufman tangles with Takayo Hashi in MMA. Kaufman gave up ballet for fighting.
Canadian Sarah Kaufman ponders the difference in dancing "The Nutcracker" and cracking skulls in a cage, and is quick to appreciate fighting's low-maintenance ways.
"You don't have to worry about fake eyelashes and putting your hair back in a bun," she laughs.
Most ballet dancers wouldn't trade dolling up for potentially getting strangled unconscious. But Kaufman admits that girls who fight are a bit nutty as she preps for her 135-pound Strikeforce title defense against Holland's Marloes Coenen on Oct. 9 in San Jose, Calif.
Kaufman has never been afraid to try something new. Kids rarely choose a career in cardiovascular surgery in grade school or don painful wooden pointe shoes for ballet class at only 8 years old.
"When I do something, I don't do it for fun, per se," Kaufman said. "I do it to get to the highest level I can."
Kaufman started dancing at 2 and joined a Victoria, British Columbia, dance company at 8, playing an angel in "The Nutcracker" and a munchkin in "The Wizard of Oz." She still has a longing for the stage when she sees a Disney musical.
But at 17 she took Thai boxing lessons at a school started by MMA coach Adam Zugec, downstairs from her Victoria dance studio.