NEW YORK -- The most noticeable thing about Andrew Giuliani is how much he looks like his famous father, Rudy Giuliani. Giuliani, the elder, was the crime-fighting mayor of New York City who became a source of comfort for New Yorkers on 9/11 and later a Republican presidential candidate.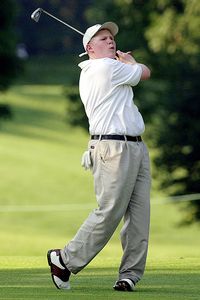 AP Photo/Kathy WillensAndrew Giuliani is looking for his big break onto the PGA Tour.
The younger Giuliani has gone in a different direction.
For the second straight season on the golf reality show "Big Break", Giuliani is looking to showcase a different side -- the serious golf side. Along with 11 other contestants, he's competing in a made-for-TV tour for $50,000 and a spot on the PGA Tour.
"I just had so much fun doing it last year -- I met so many fun people and played well," he said at the screening of the new season. "I decided to give it a second shot."
As for the bad publicity (he feuded with one contestant last season) that could pile onto an already fragile reputation (he once sued the Duke golf team after it kicked him off for basically being a jerk), Giuliani said he trusted the people at Golf Channel to not focus on the bickering.
So, if he can't make it as a golfer, how about politics?
"Once I win a couple of Masters and the U.S. Open," Giuliani said, "then we'll talk about life after golf."