$54,896.
That's a lot of clams. Or, in Dez Bryant's case, a lot of steaks.
Roy Williams finally got even with the Dallas Cowboys rookie wide receiver after the pad-carrying fiasco during training camp. Bryant took his fellow players on offense out to Pappas Bros. Steakhouse on Monday night in an attempt to make amends for the hazing misunderstanding. Williams upped the ante by bringing along defensive players, as well.
For Bryant, this MasterCard moment with his new team wasn't priceless. The bill was nearly $55K.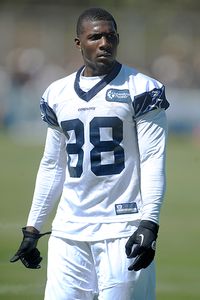 Kirby Lee/Image of Sport/US PresswireDez Bryant's wallet is a little lighter this week.
We at Page 2 want to put that amount in perspective. There are a lot of ways to make or spend that kind of money. Here are our top five:
5. Annual salary of an accountant ($57,060)
If Bryant hopes to have any money left after this season, he's going to need a good accountant fast. His contract may guarantee him $8.3M, but that's no match for the appetites of the Cowboys' offensive line if the hazing goes any further.
4. Gucci lost luggage ($50,000)
Sure, everyone with a lost bag tries to stick it to the airlines, but Giorgio Gucci is going a little far. He claims US Airways lost his suitcase last week containing $50K in vintage Gucci goods. That's precisely why we at Page 2 never check our bags.
3. 2015 Toyota hydrogen car ($50,000)
What's so great about hydrogen, you ask? Well, apparently it would be better for the environment than cars that run on gasoline. But until someone introduces a hybrid with rims, tinted windows and 22s, most professional athletes will keep rocking their gas-guzzlers. Have you seen Chris Johnson's ride?
2. Texting contest grand prize ($50,000)
It's every teen girl's dream -- getting paid to text. That's exactly what 13-year old Brianna Hendrickson did last week. She won $50K at the LG U.S. National Texting Championship by accurately typing the phrase "Old McDonald had a farm, Ei, ei, oh! And on this farm he had a champ. W/a txtr here, and BFF there. Here a text, there a text, erywhere a text-text!" in 60 seconds. Now if you'll excuse us, we have to do some thumb exercises.
Could one gesture really be worth 50 grand? If you're Rex Ryan -- definitely. Last February, the Jets' head coach flipped the bird to a Dolphins fan while attending an MMA event in south Florida. The team fined Ryan $50,000 for the incident. Best NFL finger story since Ronnie Lott.