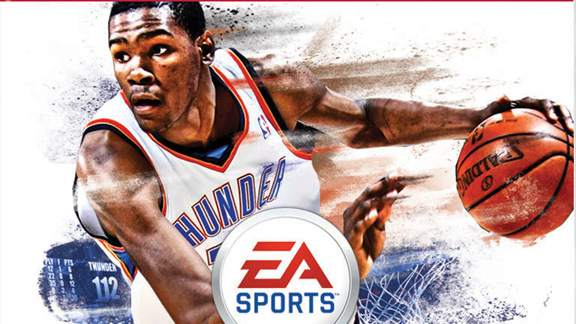 EA SportsThe once promising "NBA Elite" has now been delayed due to poor testing.
When EA Sports announced last week that its upcoming "NBA Elite 11" basketball video game would be delayed until next year -- despite being scheduled to release on Monday and already having a Manhattan launch party -- the news didn't come as a surprise to anyone (read: nerds) who had been following the title's troubled development.
In fact, it shouldn't have been surprising to anyone familiar with sports video games, period.
While games such as "Madden NFL" seem like undead cash cows, annually releasing to pomp and profits, the truth is that most sports titles are akin to athletic dynasties: they have a limited shelf life. Some last a decade. Some last a single year. Some never get released in the first place.
With that in mind, Page 2 tips a symbolic 40 oz. to the once-proud sports video games that didn't make it, the franchises joining "NBA Elite 11" at the crossroads:
NFL 2K
Years: 1999-2004

Scouting Report: When "Madden NFL"-maker EA Sports declined to release titles for Sega's Dreamcast console, Sega had programming house Visual Concepts create the critically-acclaimed "NFL 2K" series.

Peak Performance: Considered by many to be one of the best sports games ever made, "NFL 2K5" cut into "Madden NFL's" market share and forced an EA Sports price drop when Take Two Interactive priced 2K at $19.99.

Tragic Flaw: EA responded to 2K's insolence by buying exclusive NFL and NFLPA rights, effectively killing the 2K series and all other football game competitors. A bare-bones effort featuring retired players -- "All-Pro Football 2K8" -- failed to revive the 2K franchise.
NBA Inside Drive
Years: 2001-2003

Scouting Report: The best basketball game you've never heard of, "Inside Drive" was made by Microsoft for its fledgling Xbox console and featured play-calling, realistic player tendencies and sophisticated A.I. that was far beyond what other games were doing.

Peak Performance: "Inside Drive 2004," the first basketball video basketball game that played like, well, basketball, as opposed to an AND 1 mixtape.

Tragic Flaw: Workmanlike visuals -- think stiff, repetitive animations and player models that sometimes resembled Mr. Hankie -- and substance-over-sizzle gameplay made "Inside Drive" popular among a small subset of hardcore sports gamers ... and left it ignored by everyone else.