Tuesday is elimination night for ABC's "Dancing with the Stars", and athletes Rick Fox and Kurt Warner will likely survive. Neither did spectacular Monday night, but then again, neither embarrassed themselves.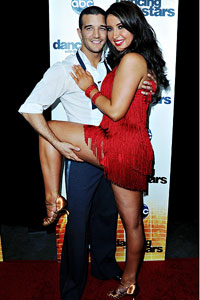 Jon Kopaloff/Getty ImagesBristol Palin and Mark Ballas struggled on Monday night and might not make it to next week.
But there actually is another person on the 11th season of the show -- who might be going home -- with a sports tie, and that's Bristol Palin.
Huh?
See, Palin, who is the daughter of former Alaskan governor Sarah Palin, has an unusual first name for two reasons:
"My parents always liked the name Bristol," said Palin, who is public speaker advocating abstinence. "My dad liked it because we would commercial fish in Bristol Bay, Alaska, and my mom always wanted to be a TV sportscaster, and ESPN is based in Bristol, Conn."
For Palin, the road might be over on "Dancing with the Stars." She and partner Mark Ballas, who is a two-time champion, scored 19 out of 30 on Monday. That's the second-lowest point total next to Margaret Cho's 18. Palin, Cho or actress Florence Henderson likely will be eliminated.
Palin is just happy for the opportunity to get her message out discouraging teen pregnancy and has loved every minute being on the show.
"I really can't dance at all. I'm not kidding. I'm starting from scratch," she said. "My partner Mark has been very patient. He's teaching me how to do everything. I never thought I'd be in this position to dance on this show."