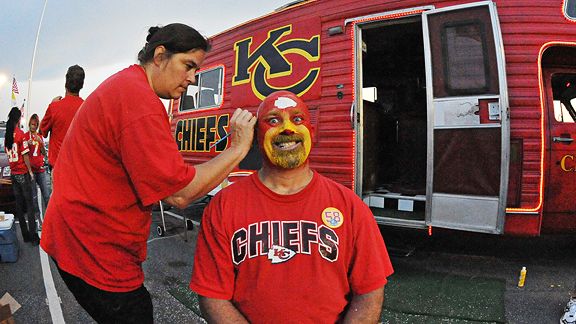 Denny Medley/US PresswireWill Chiefs fans have the opportunity to witness history? Or will the team begin resting its starters?
The Kansas City Chiefs are the NFL's last remaining unbeaten team this season -- boasting a gaudy 3-0 record with one eye on the playoffs and the other possibly on history.
Mercury Morris must be getting nervous.

Success, however, can breed a whole new kind of problems. The Chiefs' coaching braintrust of Todd Haley, Charlie Weis and Romeo Crennel, now must agonize over what's best for the team. With home-field advantage throughout the playoffs clearly within their grasp, should the Chiefs sit their starters for the remainder of the regular season? Do you pull guys in order to get them rested and healthy for the playoffs? Do you protect them from injury or do you strive for greatness?
Kansas City's next opponents, the Indianapolis Colts, know those questions well -- if not the answers. Indianapolis is a perennial division winner which has rested players down the stretch in recent seasons. The Colts' best athletes can go a month at season's end without seeing a meaningful snap. The Chiefs, assuming they rest superstars such as Thomas Jones and Ryan Succup, could outdo that by a long shot, potentially giving players about 15 total weeks off -- including a first-round postseason bye. Sure, some pundits claim that even such a brief respite from the game can throw off the split-second timing it takes to succeed in pro football -- that a team can't take even a mere three or four months off without ruining their mojo.
The athletes themselves almost never want to sit out games -- not only because they love the routine, love to compete and want to stay sharp, but because many have huge statistical incentives in their contracts. There is no question what fans want -- they don't pay $90 a ticket to watch second-stringers scuffle while legends such as Peyton Manning and Matt Cassel stand on the sidelines.