With Randy Moss' return to Minnesota comes a chance at redemption. It seemed unlikely this would ever happen, but one man has a chance to correct the errors he made the last time he worked with the Vikings, when he failed to motivate the Purple and Gold to make the Super Bowl.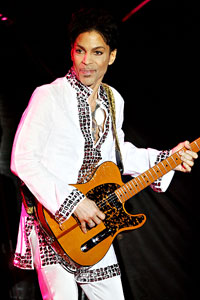 John Shearer/Getty ImagesPrince can redeem himself to those of us with ears.
Not Moss, of course. Prince.
Last season, Prince wrote a fight song for the Vikings called "Purple and Gold," and its popularity rivaled that of "Graffiti Bridge." He said the Vikings were "amped up like a rock 'n' roll band," but as you'll hear, the last thing anyone would call the song is "amplified."
But lookey-here, Bill Belichick just gave him a wealth of material. The prodigal son has returned after unbecomingly spending Monday night as a decoy. It's too big of a deal, too rare of an occurrence, for the lil fella to sit out.
One request: Just dust off one of the classics. Maybe "Alphabet St." in honor of Super Bowl XLV (coincidentally, those letters are on Brett Favre's driver's license under "birthdate"). How about "1999," seeing how the 1-2 Vikes could use that version of Moss (80 catches, 1,413 yards and 11 touchdowns). Or "Why You Wanna Treat Me So Bad" to shame him out of making the game look a little too easy.
Either way, it's a chance for Moss and Prince to make things right. Otherwise, Vikings fans might sing another Prince ditty: "I Hate U."