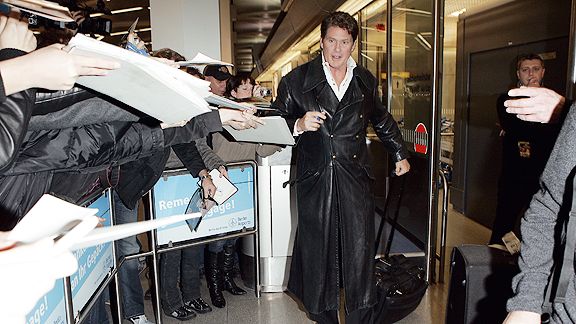 Toni Passig/FilmmagicSinger/actor David Hasselhoff arrives in Berlin, Germany, and people actually want his autograph.
When former major leaguer Matt Murton broke Japanese baseball's record for the most hits in a single season this week, he didn't just top Ichiro Suzuki -- he joined the illustrious list of American athletes who were Big in Japan.
What does it mean to be Big in Japan? Literally speaking, the phrase applies to Western rock bands who failed in the United States and the U.K. but were successful in Japan; liberally speaking, the phrase can be applied to anyone who floundered at home but soared abroad.
With that in mind, Page 2 presents a short list of individuals who were better over there than here:
Tuffy Rhodes
Over here: Best remembered for hitting three opening day home runs off Dwight Gooden in 1993 -- approximately 23 percent of the 13 total homers Rhodes swatted over a six-year major league career that saw him bat .224 with 44 RBI.
Over there: Eleven years in Japanese baseball yielded 474 home runs, 1,292 RBI and Pacific League MVP honors in 2001, when Rhodes bashed 55 home runs to tie Sadaharu Oh's single-season record. Also, Rhodes earned his own Japanese cheering song.
Milt Stegall
Over here: In three seasons with the Cincinnati Bengals, caught four passes for 43 yards and one touchdown.
Over there: The Jerry Rice of Canadian football, Stegall played 14 years for Winnipeg and retired in 2008 as the CFL's all-time leader in receiving yards and touchdowns scored; more impressively, he was once named the league's best-looking man and was quoted as saying, "there's only six guarantees in this world. Death, taxes, trouble, Milt Stegall being on time, Milt Stegall being pretty, Milt Stegall being in tip-top shape. There are only six guarantees." Eat your heart out, T.O.!