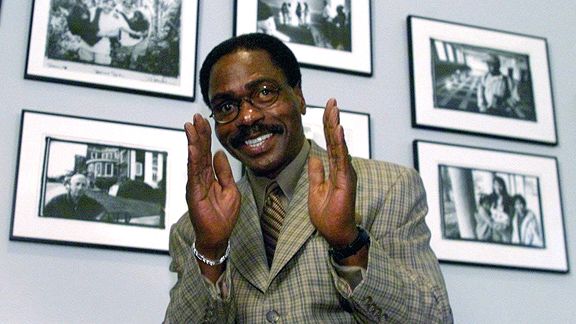 AP PhotoCelebrated coach Rubin "Hurricane" Carter makes Page 2's All-Weather Team.
With the change of climate -- albeit delayed in some parts -- Page 2 brings you the All-Weather Team. So grab a sweatshirt and gather 'round the pumpkin to honor men of all seasons.
"Sunny" Jim Bottomley: You'd smile a lot, too, if you had the kind of career this guy had. He's still the only player with 20 or more triples, 30 or more homers and 100 or more RBI in a season, a trifecta he accomplished with the 1928 St. Louis Cardinals. He's in the Hall of Fame with one MVP award to his name, but that single citation is hard to sneeze at. Over in the other league, Babe Ruth only won the AL MVP once.
Rubin "Hurricane" Carter: The promising middleweight from Paterson, N.J., was ranked as high as third in the classification in 1965 before his skills declined. A year later, a loss of career was the least of his problems. Carter was arrested and twice convicted of murder, and he ultimately served nearly 20 years in prison before a federal appellate court tossed out the verdicts, implying the prosecution's ethics and theories of the crime were flawed. Carter's life was profiled in "The Hurricane," a 1999 film starring Denzel Washington, and he later served as the chief administrator of a Canadian advocacy group for the wrongly convicted.
Mark Clear: The Weather Channel doesn't have any "Clear Weather Experts" panting furiously when the sky's blue, but that doesn't make Clear irrelevant. Quite the contrary. He played his first two seasons in a place where his name fit perfectly: Anaheim. He's one of only 32 rookies to pitch in an All-Star Game, having earned the distinction while with the then California Angels in 1979 and again in 1982 (Boston Red Sox).