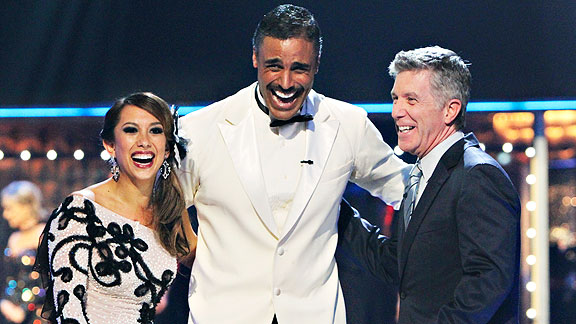 Adam Larkey/ABCRick Fox and partner Cheryl Burke are one of only eight couples remaining on 'Dancing with the Stars'.
For athletes Kurt Warner and Rick Fox, surviving four weeks on ABC's "Dancing with the Stars" is a double-edged sword. It's great to be one of the final eight contestants in Season 11, but it's still a painful learning process each week.
"Unlike football, which I always wanted to do, I don't have the desire to be a professional dancer, so it's difficult," said Warner, who is partnered with Anna Trebunskaya. "It's really kind of intense. Yesterday, I couldn't do anything right. I want to be the best, but I didn't realize you had to put in so much time."
Fox agreed, already having learned the Viennese waltz, the jive, the Samba Argentine and the tango.
"This show is a full-time commitment. You really have no idea what to expect before you do this, and there is only a short amount of time for training," said Fox, who is partnered with Cheryl Burke. "As athletes we already have stamina, but there is a lot of long hours of preparation."
On Monday, the contestants will perform either a dance they didn't perform in one of the first four weeks or the tango. It's also TV theme week.