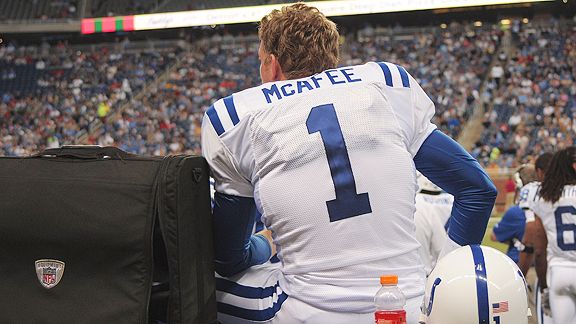 Mark Cunningham/Getty ImagesAfter Pat McAfee's arrest for public intoxication, we wonder what's in that bottle behind him.
From the Department of It's Not an Outtake from "Old School," It's Real Life, we bring you the following update: Indianapolis Colts punter Pat McAfee was arrested for public intoxication on Wednesday after police said he took a pre-dawn swim in a city canal -- what, sucking on a bar squeegee was too hygienic? -- and then allegedly told officers "I am drunk" as he attempted to explain ... why he was sopping wet.
On one hand, Page 2 would never condone irresponsible drinking, no matter how giggle-worthy the results; on the other, we're inviting McAfee to join these sports figures in our At Least They Weren't Driving Hall of Fame:
Gary Moeller
Former Michigan football coach was arrested at a Detroit-area restaurant in 1995 after he: (A) banged drink glasses so hard against a table that they broke; (B) sang loudly with the band and tried to dance with women who were strangers; (C) told a waitress who served him as many as eight drinks that she was "beautiful," then tried to hold her at his table; (D) tried to pick a fight with another diner; (E) badmouthed his wife -- who already had left to protest his drinking -- to police; (F) cursed and shoved police; (G) threw a lampshade at a manager who tried to get him to switch from alcohol to coffee. Gary, Gary, Gary: Don't you know the lampshade is supposed to go on your head? Aftermath: Moeller resigned from Michigan and was later sentenced to a $409 fine after pleading no contest to disorderly conduct and assault and battery.
Ed Belfour
While police were arresting the former NHL goalie at a Dallas hotel in 2000, an intoxicated Belfour offered officers "$1 billion" to let him go. Police report gives no indication if Belfour held pinky to mouth while making offer. Aftermath: Belfour was sentenced to two years' probation and a $3,000 fine.