ENCINITAS, Calif. -- Talking about "going green" is easy. Actually being green isn't.
But for members of a north San Diego County gym, shrinking their carbon footprint is as simple as riding a bike.
"It's pretty fantastic when you can just hop on a bike and send power back to the grid," said patron Kris Rivers.
The Encinitas-based Greenasium gym has all the typical fitness fare, from free weights to circuit training. But riding a bike that helps power the electric grid is just a small piece of the eco-friendly puzzle.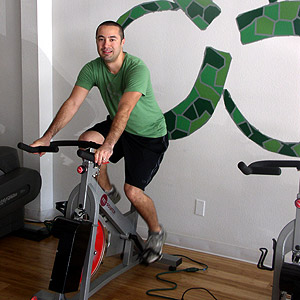 Kyle KensingCo-owner Byron Spratt rides one of the Greenasium's stationary bikes. The bikes are hooked up to a generator and send power back to the grid.
The usual means of green came into play as Byron Spratt and his partners prepared for a Sept. 1 grand opening. For example, patrons are asked to bring their own reusable water bottles and towels. There isn't a paper towel or Styrofoam cup in sight.
The gym itself is put together from reused materials.
"The front desk, these [reception area] benches are made from lumber that the last tenants left," Spratt said. "This carpet is recycled from plastic. The dumbbells [are] pre-owned, but you wouldn't know. They look no different than brand-new."
Nothing at the Greenasium goes to waste. And nothing means nothing -- not even the energy patrons expend. The gym's stationary bikes are connected to a generator that turns human power into electricity . Beyond that, the gym uses natural lighting and incurs few energy costs.