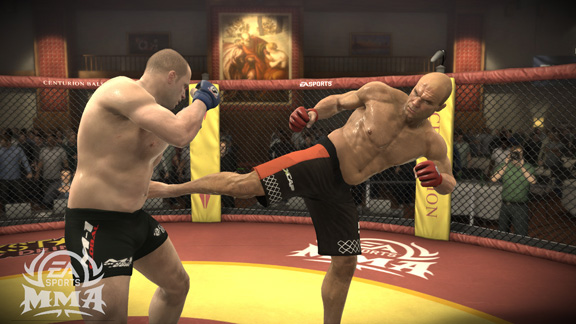 EA SportsRandy Couture vs. Fedor Emelianenko in the fight that can happen only in "EA Sports MMA."
With the release of the "EA Sports MMA" video game, the hype and polygonal pageantry of mixed martial arts are striking the mainstream with a lot of force. But cover athlete Randy Couture remembers a different time for MMA. A time when you could have seen the biggest stars in UFC hanging out at the Holiday Inn.
"My first fight was UFC 13 back in 1997, and we had weigh-ins inside the lobby of the Holiday Inn in Augusta, Georgia," Couture says with a laugh. "It was just the fighters and their seconds standing around the lobby of the hotel. Now we have 6,000 people showing up to the arena just for the weigh-ins. There were only 1,500 people at my first UFC fight. That's how much things have changed since I've been fighting."
And with the fans and attention comes the release of not one, but two MMA games in the same year as EA Sports steps up to try to take down THQ's UFC franchise.
To celebrate the release with EA Sports, Couture is even going to dust off his video game skills to go head to head in the game against co-cover star Fedor Emelianenko.
"I got the chance to play the game last night," Couture says. "EA Sports was giving me a lesson on how to play. I remember back when I played Atari and 'Pong.' Now there are so many buttons involved … holy crap.
"I doubt Fedor and I will ever be able to fight for real. He's tied up where he's tied up, and I think the likelihood is pretty minimal. But you can play it in the video game right now, so this is it."