Is he or isn't he?
That's the question everybody seems to be asking when they first glimpse LeBron James lookalike Roberson Monis.
Except for the 7-inch height difference -- Monis is only 6-foot-1 -- the Haitian immigrant is turning heads for being the spitting image of the Miami Heat's newest star.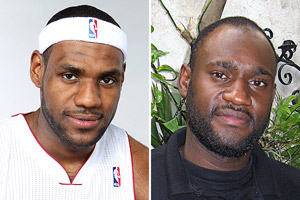 Left: Getty Images, Right: Sandra HarwittRoberson Monis, who works at a restaurant in Miami, says he's frequently mistaken for LeBron James.
Monis said when he recently attended the Heat's preseason game against CSKA Moscow, fans were stopping him for autographs on his way in. And, he laughingly admits, it wasn't because they recognize him from Soyka, a trendy Miami eatery where he buses tables.
So what does the 32-year-old Monis think of being a King James clone?
"It's like reality, real life, that people can look like anybody," said Monis, who admits to occasionally wearing a No. 6 Heat jersey. "But to look like LeBron James, wow, that's awesome. It makes me shake."
Monis is hoping his newfound fame might open doors in the future. A guitar player, he admits he's always dreamed of being a superstar -- not on a basketball court, but on stage as a musician.
Juliette Raymond, the manager of Soyka, says the fanfare surrounding Monis has been "insane." A TV station and local publication stopped by last week to meet him.
Raymond is hoping there's one important person who'll visit Monis at the restaurant soon, and she hopes he brings along some friends: "Please LeBron, we'd love to have you come in anytime, and we'd love to have the team come in, too," Raymond said.
As for Monis, he welcomes the opportunity to meet the "real" LeBron James.
"I'd like to meet him to see if I really look like him," Monis said. "I'm always looking in the mirror and saying, 'Do I really look like him?' But if people are going to give it to me, I'm just going to take it."