* Assuming they win the World Series, of course
Baseball people and old-timers always like to say, "The little things matter." You know, like bunting, moving the runners over, making sure Bengie Molina is kept away from the postgame spread until everyone else has had their turn.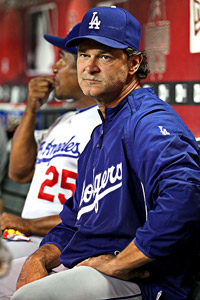 Christian Petersen/Getty ImagesDid a tiny Don Mattingly gaffe in July propel the Giants?
Don't scoff. They do matter. In fact, an entire season can rest on the tiniest of circumstances. Take the Giants, on the verge of their first World Series title in San Francisco. They clinched a playoff spot only when beating the Padres on the season's final day. And who can they thank? Don Mattingly.
Back on July 20, the Giants were playing the Dodgers. Manager Joe Torre and bench coach Bob Schaefer had been ejected following a series of hit batters, so Mattingly was skippering the club. It was the ninth inning and the Dodgers led 5-4. Closer Jonathan Broxton was pitching. The outlook wasn't brilliant for the San Francisco nine that day. Mattingly went to the mound for a visit. He started walking to the dugout, then realized he had something more to say. ("Oh, yes . . . throw strikes.") Bruce Bochy realized this constituted a second trip to the mound and Broxton had to come out. In entered George Sherrill, who had an ERA over 7 at the time. Andres Torres promptly hit a two-run double and the Giants won the game.
Just a little something to think about this weekend, Dodgers (and Padres) fans.