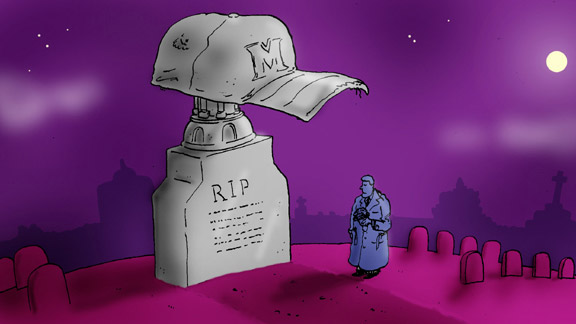 Kurt Snibbe/ESPN.comThere's no shame in holding a funeral for your favorite go-to hat.
I don't want to exaggerate the importance of your massive, passionate and empathetic responses to last week's Flem File on saying goodbye to Golden Boy, my favorite hat for almost a decade, but you pretty much restored my faith in mankind.
I thought I was the only one who felt this way about a hat. Boy was I wrong.
And to top it off, one of the responses was from an actual living, breathing angel. Okay, it was an executive from '47 Brand, the company formerly known as Twins Enterprise that manufactured my original blue Miami hat. And, in what is either the kindest act in the history of the world -- or the best/cruelest prank, ever -- a rep from the company says they tracked down an exact replica of Golden Boy and there's a chance I could have GBII resting on my melon by next week.
I'll keep you posted.
In the meantime, check out this multi-media sampling of reader responses. And thanks, you guys, this kind of stuff is why I love my job.