Welcome back to another addition of Page 2 Jeopardy!, the quiz that tests your knowledge of sports, pop culture and assorted trivia. Please remember to phrase your responses in the form of a question.
(Correct questions at the end of the quiz.)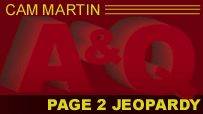 1. Answer: The last words of an inmate put to death by lethal injection in Arizona this week were reportedly this two-word cheer popular with the University of Oklahoma.
2. Answer: Of Antrel Rolle of the Giants, Raheem Morris of the Bucs or Roy Williams of the Cowboys, the one this week who did not claim his team is the best in the NFC.
3. Answer: Andy Murray, the No. 4 men's tennis player in the world, strained a tendon in his right hand while engaged in this popular off-the-court activity.
4. Answer: In an effort to reach new fans, this NHL team has been marketing its unusually high number of African-American players.
5. Answer: Actor James MacArthur, who played this iconic 1970s television character, passed away this week at the age of 72.
Question 1: What is Boomer Sooner?
Question 2: Who is Roy Williams?
Question 3: What is playing PlayStation?
Question 4: Who are the Atlanta Thrashers?
Question 5: Who is Danno from the original "Hawaii Five-0"?