Heads up: Loving Ashton Kutcher is, in fact, a crime. At least to the NCAA. According to reports, the University of Iowa violated recruiting rules by allowing a pair of basketball recruits to meet Kutcher and wife Demi Moore -- both celebrity Hawkeyes fans -- during a September football game between Iowa and Iowa State.
The NCAA said on Monday that the actions were unintentional and accidental, and that the school will not be penalized.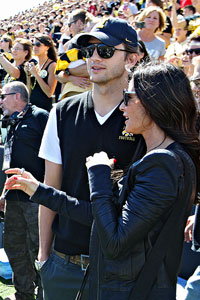 Stephen/Icon SMIIf loving Ashton Kutcher is wrong, well, Iowa doesn't want to be right.
Question is: Did the secondary recruiting violation help Iowa's cause? Was it worth the potential punishment?
To sort out the matter, Page 2 presents our early season college sports illegal recruiting inducement rankings:
1. Overnight mail envelope stuffed with greenbacks
2. Associate head-coaching gig for uncle/AAU coach
3. "He Got Game"-style campus visits
4. Late-model luxury SUV leased in cousin of booster's name
5. Rims! (And/or a tractor)
6. Cross-country relocation and job for parent at booster-owned bank
17. Party at Bruce Pearl's house
25. Make-work position at local car dealership
48. Guaranteed playing time until we recruit someone better
106. Flattering text message No. 5,952 from Kelvin Sampson
244. Vigilant protection from evil, evil sports agents
525. Opportunity to meet Ashton Kutcher and Demi Moore
Also receiving votes: Unauthorized visits to campus library, telephone calling cards, sideline high-fives from Matthew McConaughey.