NEW YORK -- Dwight Howard may be the NBA's Superman, but when it comes to making music, he'll admit to having at least one flaw.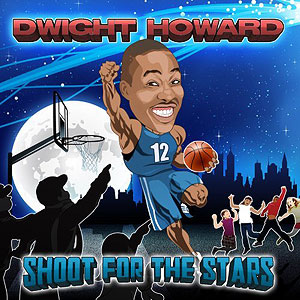 Razor & Tie Music Publishing Dwight Howard sings songs by Michael Jackson, Black Eyed Peas and others on "Shoot For The Stars."
"I'm not good at rapping, I'll say that," he says. "But singing, I can hold a note. I'm pretty good. If I had to sing in front of a big crowd, I don't think I'd be that shy."
There's nothing timid about the Orlando Magic star's musical CD debut. Last week, as the league opened the NBA season, he released "Shoot for the Stars" (iTunes | Amazon), a CD for kids that has the center singing songs by Michael Jackson, Harry Belafonte and the Black Eyed Peas and even rapping MC Hammer's "U Can't Touch This."
By releasing a CD, Howard follows in the footsteps of NBA stars such as Ron Artest and the league's original Superman, Shaquille O'Neal, who has a platinum disc to go along with his championship rings.
Howard says he didn't intend to follow their path.
"I didn't want to do the normal thing with everybody getting an album and all that stuff," he says. "I always wanted to have a production company, being involved in music, but not as far as me singing or rapping or doing any of that stuff."