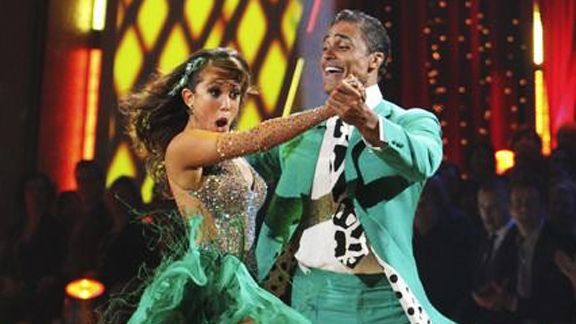 ABC/Adam LarkeyThe exit of Rick Fox and partner Cheryl Burke shocked the cast and many of the viewers.
Kurt Warner, the lone athlete remaining on ABC's "Dancing with the Stars", is still shocked that former NBA star Rick Fox was eliminated from the dance competition.
"Rick carried himself very well during the show," Warner said. "He handled all the different dances and the judges seemed to really like him. It's all surprising."
The final five are Warner, actress Jennifer Grey, singer Brandy, activist Bristol Palin and Disney star Kyle Massey.
Warner isn't stupid. He knows it's not just dancing that can keep you on the show.
"If it were just a dance competition, it's either Brandy or Jennifer winning the whole thing. Hands down, " said Warner, who joined the show to promote his faith-based organizations. "It really comes down to whether the voters connect with you. Nobody really knows what those factors are that keep you around."
So, Warner will continue training with dancer Anna Trebunskaya each day and prepare for next Monday's live show.
"Outside of Brandy and Jennifer, the three of us are just going out there to entertain the audience and have fun and not worry about the scores," he said. "I hope people like me for what I stand for and what I believe in. That's the most important connection."