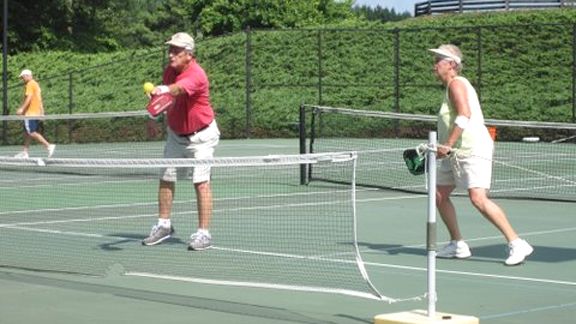 Courtesy Ann EarleyWilliam Criswell and Carole Hess play pickleball on converted tennis courts at a horse farm in Georgia.
When racquet sports last met vegetables, we got served squash.
Ready for a bite of pickleball?
It's not the keep-away game from baseball practice. It's not played with anything warty (except some players).
Pickleball -- a fermentation of tennis, ping pong and badminton -- is relished by seniors, kids and a few parents sandwiched between. If you sour on words like "fun" and "quirky," avoid any contact with pickleheads.
Their chatter is salted thick with happy talk. The veggie prefix only begins to make this sport, to them, such a fun dill.
"The name renders different things in your head," acknowledged Babs Greene, who teaches the game at the Georgia State University's Olympic badminton courts. "But then someone tells the story about the dog going after the ball and that's just kind of a quirky little thing."
Pickleball was named not for a marinated cucumber but a motivated canine. Pickle was a cocker spaniel on Bainbridge Island, Wash., who chased the Wiffle balls lobbed by the sport's dog-loving inventors.
A sports condiment tasty for all ages, pickleball spread to 30 states, across Canada, India, Europe and Australia. Last week's USA Pickleball Association national championships in Arizona drew 400 players, teenagers to octogenarians.