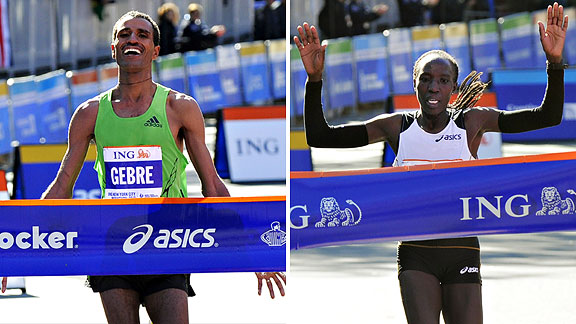 AFP/Getty ImagesGebre Gebremariam of Ethiopia crosses the finish line to win the men's division of the New York City Marathon. Edna Kiplagat of Kenya crosses the finish line to win the women's division.
In honor of Sunday's New York City Marathon, here are five great quotes about running marathons:
1. "Because I'm good at it."
-- Frank Shorter, asked why he likes running marathons
2. "I finished 837 in a field of 837, with a medical van and a motorcycle cop on my tail all the way. It made me feel like George Bush."
-- Rick Majerus, college basketball coach, on running in his first marathon
3. "I hope I haven't missed dinner. I'm starved."
-- Charles Hardy, last-place finisher in the 1981 Boston Marathon in a time of 6 hours and 38 minutes
4. "Every jogger can't dream of being an Olympic champion, but he can dream of finishing a marathon."
-- Fred Lebow, co-founder of the NYC Marathon
5. "If you feel bad at 10 miles, you're in trouble. If you feel bad at 20 miles, you're normal. If you don't feel bad at 26 miles, you're abnormal."
-- Rob de Castella, former marathon world champion
For more sports quotes, check out my site.