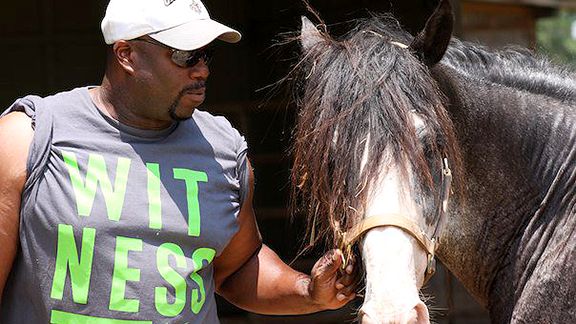 Keith WarrenFormer Oklahoma star Marcus Dupree takes his horses around the country competing in shows.
On Tuesday, ESPN will broadcast the 30 for 30 film "The Best that Never Was" about former University of Oklahoma running back Marcus Dupree, the most highly recruited football player ever.
With a show titled that, you'd think it would be a depressing tale about Dupree, of Philadelphia, Miss., who was recruited by every college and played at Oklahoma in the early 1980s before quitting school because of injury and frustration. Dupree went on to play several years of pro football but never lived up to the hype.
Dupree, however, has made peace with his past.
"I don't look back on it in a negative way," Dupree said. "I can't really complain. God puts things in the way. And it only makes you stronger. If God had wanted it to happen for me, he would have made it happen for me."
Since he's left the game, Dupree has gotten into the construction business and today he's helping BP with the oil spill cleanup in Mississippi.
He's also working on bringing the USFL back. He played two years for the now-defunct league in the mid-1980s and is hoping to resurrect it.
"I always thought the league was good," Dupree said. "If you can't make the NFL, you can still play. And we'd do it in the spring to not conflict."
And Dupree is spending more time with his family, and he has gotten into the show horse business. He trains spotted walking horses.
"You might think I'm crazy but I started loving horses when I was a kid after I watched 'Bonanza,'" he said. "So now I have six horses and I'm traveling the country competing. In fact, I'm getting ready to travel to compete. I've won a lot of trophies. I'm really happy with my life."