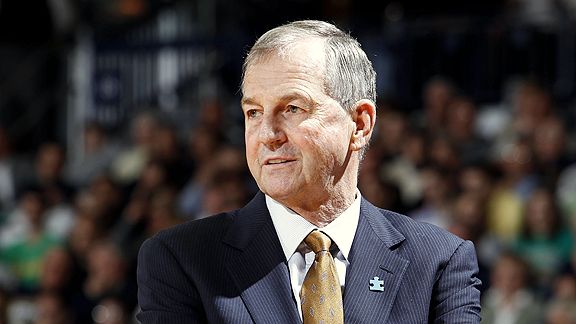 Joe Robbins/Getty ImagesGreat news Butch Davis! If Jim Calhoun had a vote for coach of the year he'd give you every dime of his support.
Jim Calhoun joined Mike'd Up with Mike Francesa on WFAN in New York to discuss being called a cheater and the Cam Newton saga.
On being called a cheater:
"Well, it is a hurtful moment. ... The bottom line is we did make some mistakes, but I don't think it's anything hellacious and nothing that would constitute cheating. We may have broken rules or not known about rules or whatever the case may be, but we did not cheat to get basketball players. ... You don't even have to like me, and that's fine, but I'm not a cheater and my program has never cheated to get to where it's gotten. That becomes hurtful."
On the Cam Newton saga:
"I just feel terrible for him because, quite frankly, I'm still trying to figure out, with the Buckley Amendment, which protects his rights at Florida, how any, quote, information, exactly how it did get out, and what's that got to do with his incredible, incredible performance this year? ... He should win the Heisman Trophy from what I've seen thus far, and yet it seems to me they're trying to bring out every other thing that has nothing to do with this one situation that I think the NCAA and the Southeast Conference and obviously Auburn is dealing with. But that seems to be happening more and more. I think one of the Coaches of the Year should be Butch Davis because of what's happened to him at North Carolina."
• Click here for a transcript of highlights from the interview