Welcome back to another addition of Page 2 Jeopardy!, the quiz that tests your knowledge of sports, pop culture and assorted trivia. Please remember to phrase your responses in the form of a question.
(Correct questions at the end of the quiz.)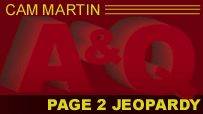 1. Answer: This light-hitting former major league shortstop needed to practice a Latino accent to play the role of hard-hitting Miguel Tejada in the film version of "Moneyball."
2. Answer: A high school student in Jackson, Miss., sued his football coach and the school district after the player was kicked off the team for wearing these in honor of Breast Cancer Awareness Month.
3. Answer: A man in Florida filed a petition for restraining orders against Jesus, President Obama and this beloved former college quarterback, but the petitions were dismissed.
4. Answer: This Chicago Bulls player had the audacity to call Kevin Garnett "ugly."
5. Answer: Often foiled in their usual attempts to serve court warrants at people's doors, constables in Pennsylvania successfully enticed people to come outside by pulling up in a van adorned with this team's name and logo.
Question 1: Who is Royce Clayton?
Question 2: What are pink cleats?
Question 3: Who is Tim Tebow?
Question 4: Who is Joakim Noah?
Question 5: Who are the Pittsburgh Steelers?