The NHL has a problem on its hands.
Its general managers know a social media policy should be enacted. They're just not sure on the particulars yet.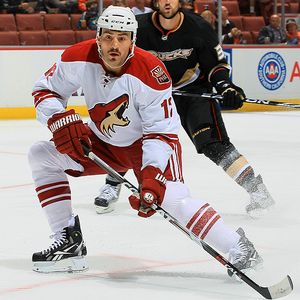 Jeff Gross/Getty ImagesPaul Bissonnette, aka BizNasty2point0, is a little-known player but he has more than 18,000 followers on Twitter.
"Should we have a league-wide policy? Should we have a policy with clubs?" Washington Capitals GM George McPhee told reporters. "It's all about trying to educate the players of the benefits of having those accounts, and the pitfalls if they're not doing the right things."
Phoenix GM Don Maloney led the discussion and told ESPN's Pierre LeBrun this afterward:
"Really, the point of talking about it, for all us 50-somethings in there, this whole Twitter/Facebook, we don't quite understand it. Yet this was more a discussion on how do we get ahead of it? We don't want to discourage the personalities; we want the personalities … We went to the NFL and what kind of policy did they have? This was our first blush at just talking about maybe just a general policy without discouraging the personalities of the game, which we all like."
While the league appears to still be sorting things out (and its older GMs might not have the best handle on the ins and outs of this new social media world), the NFL's policy -- as well as the NBA's -- are worth emulation.