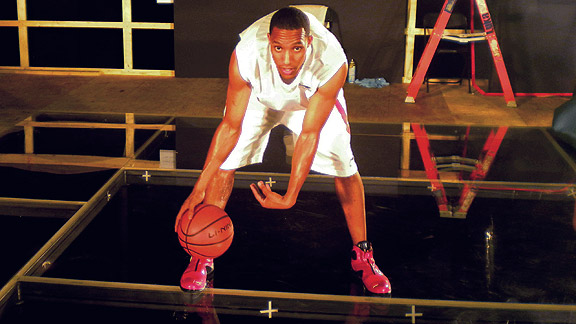 Courtesy of Li-NingPhiladelphia 76ers rookie Evan Turner films a commercial for his Li Ning shoe line.
LOS ANGELES -- Outside the W hotel in Hollywood on a crisp autumn morning trucks of a film crew line the streets as workers lay down miles of cable, adjust lights and set up Christmas decorations for a commercial that will shoot at the ritzy hotel. Extras in elf costumes carrying volleyball-sized Christmas ornaments are being funneled to and fro by well-dressed production assistants who look like they've stepped off the pages of some high fashion catalogue.
The place is buzzing and if it weren't Hollywood, you'd just as easily convince yourself that this was some sideways surreal fantasy and you haven't yet put the smackdown on your snooze button.
In the middle of the hubbub, Philadelphia 76ers rookie Evan Turner, dressed in a black sweatsuit and flip-flops, slumps on a couch in the center of a lobby. His agent, David Falk, is across the lobby on the phone with a furrowed brow and a USA Today tucked under his arm.
Turner is in town to shoot his first commercial. Not the Christmas-themed one, but a spot for Chinese sneaker company Li-Ning, which is shooting 10 miles north of Hollywood. Turner is equal parts groggy and taken aback but eager to be a part of something new.
"Everything is so different out here," he said. "It takes a while to get used to it."