LeBron James and Chris Bosh may have gone to Miami to seek a championship, but wardrobe stylist Rachel Johnson always dressed them for the part. Johnson is a "lifestylist" with the Thomas Faison Agency, and has styled LeBron James, now in his eighth year, since the beginning of his career. Along the way, she picked up some other franchise players like Amaré Stoudemire, Chris Paul and Chris Bosh. Page 2 spoke with Johnson about her experience styling NBA players and how fans with much lower budgets can keep up.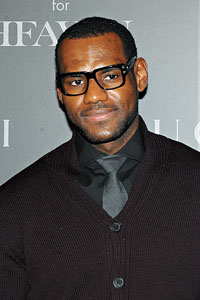 Jamie McCarthy/Getty ImagesRachel Johnson is a "lifestylist" for NBA players like LeBron James.
How did you begin styling NBA athletes?
I started styling NBA players about 7 years ago. That was the generation influenced by Michael Jordan and Charles Barkley -- the Allen Iverson generation -- so their style was influenced by them. That included huge suits, all the buttons, and lots of interesting fabrics and colors. Even though the men thought they were hot and well-dressed they didn't really understand the world of fashion. They had never been allowed in that arena. They didn't sit front row at fashion shows.
What changed?
An influx of players came in whose influence came from a mainstream source rather than who the veteran was on their team. LeBron's generation -- D-Wade and Stoudemire, wanted to be more entertainment-looking. They also were the first generation to employ stylists. They found someone like me who studied fashion whom they found through their favorite entertainers because I used to style guys like Puff and Jay-Z and Pharrell.
How did the NBA's dress code affect anything?
The dress code! That's another reason that they started employing stylists. This was a pivotal turning point that changed the face of style in the NBA. Then it started being a competition. These guys compete for a living and it translates into literally everything they do.