The quest to name America's greatest tailgater is on. The Bing National Tailgating Championships are searching for the country's finest parking-lot partiers, holding regional meets in six NFL cities, with winners meeting during Super Bowl week in Dallas to pick a champ. The teams compete in four crucial disciplines: sports trivia, team spirit, parking lot athletics, and, of course, tailgate cuisine.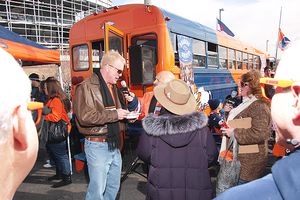 National Tailgating ChampionshipsBronco Bus won the Bing National Tailgating Championships regional in Denver.
Houston's Reliant Stadium hosted the first NTC regional. The Bull's Eye Tailgaters, organized enough to have their own website, took the title by beating the likes of Raging Bull Tailgaters, Texan Brew Crew, and the Texans Express. BET especially excelled at trivia -- answering tough questions like "Who scored the first regular-season touchdown in Texans franchise history?" (Billy Miller) and easy ones like "Where did David Carr go to college?" (It was Fresno State.)
Last weekend the regionals moved to Denver's Mile High, where Bronco Bus won the battle of Invesco Field. Chase Boswell, co-owner of the ramshackle vehicle that gave the team its name, said that most members of Bronco Bus met in high school, bonding over Denver's pair of Elway-led runs to the Super Bowl.
One trivia question, he admitted, stumped the team. No one remembered who sang the National Anthem (Cher!) before Denver beat the Falcons in Super Bowl XXXIII. But Bronco Bus wowed the judges with cuisine, serving jalapeno-and-cream-cheese burgers with venison chili on the side.
The NTC head east next weekend, hitting that legendary tailgating hotbed of East Rutherford, New Jersey. Three more regionals follow -- in Phoenix, New Orleans and Seattle -- before the big showdown in Big D. As Page 2 brings you all the parking lot action, getting a few words with each winner, we may even try to find out how any list of the NFL's best tailgating cities could leave off Kansas City, Green Bay and Charlotte.