Only one end zone will be used at Wrigley Field on Saturday for the Illinois-Northwestern game because of safety concerns, the Big Ten announced Friday.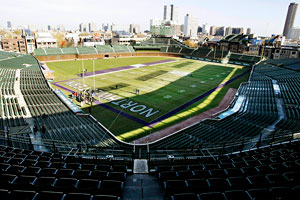 AP Photo/Charles Rex ArbogastWhichever team is on offense Saturday will head toward the west [left] end zone.
The east end zone is feet away from the right-field wall, and although there is padding, there was still concerns that injuries could take place. Northwestern coach Pat Fitzgerald had said he would have different game plans for the different end zones to avoid the possibility of injury.
When a team is on offense Saturday, it will be positioned to head to the west end zone.
"It was something we've all had some concerns about in regard to the closeness of the right-field wall at Wrigley Field, so a decision was made with both coaching staffs and the athletic directors of both schools and the [Big Ten] commissioner to start every offensive possession and go west," Illinois sports information director Kent Brown said on "The Waddle & Silvy Show" on ESPN 1000. "I think it's a student-athlete safety concern that is first and foremost, and we want to make sure there's no chance for somebody to run into that wall and get seriously injured.
"It's a unique twist to the game, but I think it's something all parties felt was the most fair."