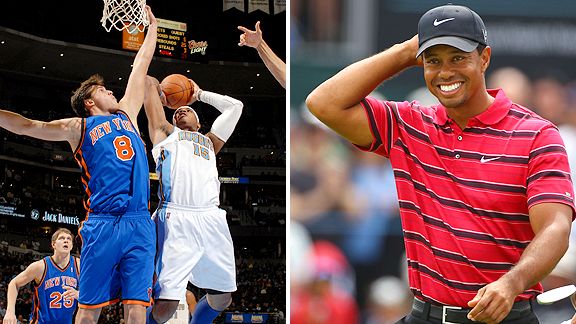 Getty ImagesCarmelo Anthony's Nuggets and Tiger Woods are using social media to get their message out.
The Denver Nuggets beat the New York Knicks on Tuesday night in Denver.
But there was also another battle won by the Nuggets.
Yes, yes: The teams tossed together a little social media battle at nuggetsvsknicks.com in anticipation of Tuesday's game.
Participation was simple: Fans were encouraged to give a Facebook "like" to their team of choice on the site. The team with the most likes won the battle.
The site was still active at the time this story was published, and the Nuggets had nearly doubled up the Knicks (914 likes to 566 likes).
While these certainly aren't huge numbers, the battle also encouraged fans to use the teams' Twitter hash tags -- #nuggets and #knicks -- to talk trash on the platform. (Cleanly, of course.)
Between the like and hash-tag encouragements, the showdown was an idea that succeeded in drumming up some increased exposure for the teams in the social streams -- an important goal in a space that's filled with an endless amount of content, publicity and opinion.