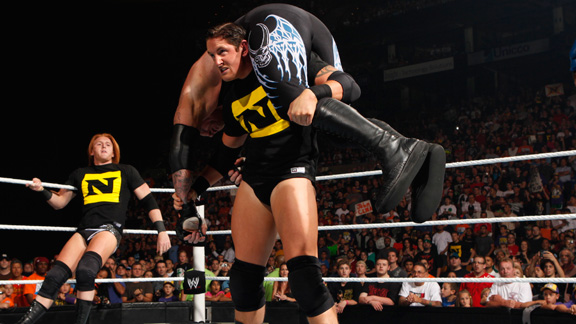 WWEWade Barrett had a strange trip from lab worker to WWE superstar to video game character.
Wade Barrett is just your typical marine biologist turned bare-knuckle brawler turned WWE heel?
"I've had a really strange path to WWE, that's for sure" Barrett says with a laugh.
That's right, before Barrett was turning heads as wrestling's breakout star of 2010, he was the largest lab tech in England.
And like his road to success, Barrett's rise through the ranks of the WWE elite has been anything but typical.
In a matter of months, Barrett and his Nexus crew rose from rookies just trying to earn a shot on WWE's main roster to the talk of the entire wrestling world.
And this Sunday, Barrett gets his shot at the biggest prize of them all, the WWE Championship, as he takes on Randy Orton at Survivor Series.
While prepping for the main event, Barrett took time out to talk to ESPN about everything from his days working in the lab to what he learned from the veterans during Old School Raw to his downloadable character in "WWE Smackdown vs. Raw 2011." Here's what the baddest man in the business had to say.
Jon Robinson: How does someone go from a degree in marine biology to fighting in bare knuckles tournaments to the WWE?