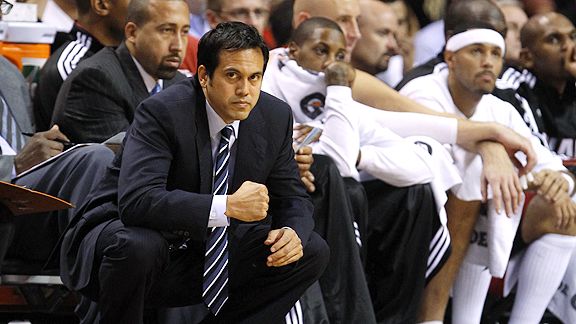 AP Photo/Wilfredo LeeIs Miami Heat coach Erik Spoelstra on the hot seat? Page 2 investigates.
With the ballyhooed Miami Heat off to a disappointing 8-7 start, Los Angeles Lakers coach Phil Jackson publicly speculated that Heat coach Erik Spoelstra's employment status might be tenuous. Was Jackson tweaking a possible rival? Or was he simply saying what the rest of us are thinking?
Thanks to the awesome search functions of Google and Lexis-Nexis, Page 2 takes a look:
Hits and/or articles produced by searching for "Erik Spoelstra" AND …
… "job security."
Google: 5,230
Lexis-Nexis: 18
---
… "vote of confidence."
Google: 2,130
Lexis-Nexis: 11
---
… "hot seat."
Google: 43,300
Lexis-Nexis: 19
---
… "spend more time with family."
Google: 1,430
Lexis-Nexis: 15
---
… "coach for life."
Google: 55
Lexis-Nexis: No documents found