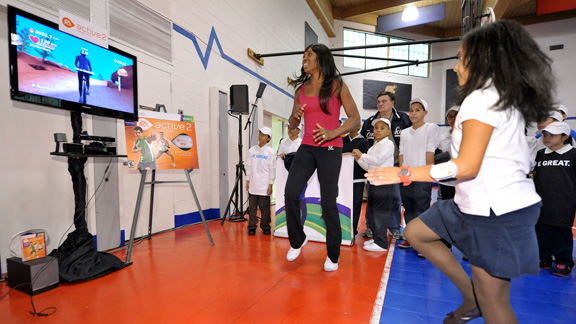 EA SportsVenus goes for a run with the kids from the Boys & Girls Club.
Video games that make you sweat are all the rage ... and that's a good thing.
Forget the days of pressing buttons to make your character jump. With the new wave of fitness titles your living room is the gym, your motions control the avatar on screen and working out becomes as much of your gaming lifestyle as shooting aliens.
And no game does this better than "EA Sports Active 2."
Complete with heart rate monitor and motion tracking, I was shocked at the level of workout I was able to get playing the game through Microsoft's Kinect. Add in the ability to track all of your workout data online (including calories burned and heart rate), not to mention the addition of weights to your workouts now that the game is hands free through Kinect, and you have a product that somehow bridges the gap between hardcore fitness freaks and the hardcore gamer.
It's a game I didn't think I'd enjoy at all but find myself going back to on a daily basis.
And it's a game that tennis superstar Venus Williams feels so strongly about, she is acting as an ambassador for the product. She even brought copies of "EA Sports Active 2" to a Boys & Girls Club in New York, leading the workouts herself as she talked to kids about the importance of exercise.
"Activity is my life," Williams tells me over the phone as we talk video games and tennis. "I really want to promote a healthy lifestyle, moving, and show that you can stay fit in a way that is not too challenging or uncomfortable. You can have fun doing this, you can enjoy it, and after seeing the first game and how it worked, I thought it was a fun idea and really wanted to be involved in spreading the word."
Here's what else Venus has to say about getting fit, her tennis legacy and why she thinks "EA Sports Active 2" is an essential part to any game library: