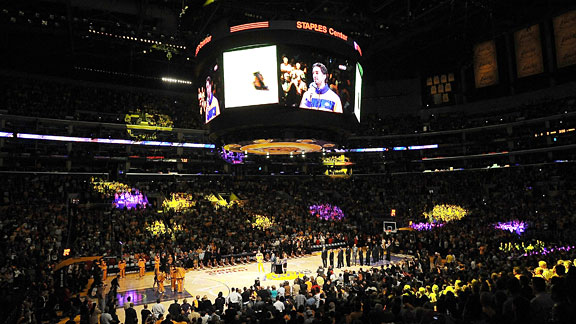 Noah Graham/NBAE/Getty ImagesThere's a reason Bill has never taken his daughter to a Lakers game.
My daughter has one goal every night: to prolong her bedtime routine as long as humanly possible.
A few months ago, she realized that watching sports with me -- and pretending to be interested, no less -- was a good way to avoid brushing her teeth, reading two books, getting kissed good night, then lying in a dark room until she falls asleep. About 7:30 every night, she snuggles beside me on the sofa, throws herself into the game I'm watching, asks a few pertinent questions, then eventually says, in the sweetest voice possible, "Daddy, can I close my eyes for a few minutes?"
That really means, "Daddy, I'm skipping the bedtime routine and falling asleep right here against your warm and slightly doughy body. It's going to be like Ryan Clark knocked me unconscious. And eventually, there will be a timeout in this stupid game you're watching, and you're going to have to carry my sleeping ass upstairs to bed. We've done it before; we're doing it again."
It's a smart move. She knows I want her to like basketball. That 15-minute window before "Daddy, can I close my eyes …" is one of my few chances to brainwash her. I don't care whether she becomes a fanatic, just that she knows enough so that …
A) We can attend Clippers games without her believing that cheerleaders, vendors and the humongous video screen are 10 times more interesting than the players or anything happening on the court. (Although, at a Clippers game, it's 50/50 she might be right.)
B) She realizes that "Celtics = good" and "Lakers = evil."
I can't control A. When she's 16, she might still be leaning toward cheerleaders, vendors and the humongous video screen. But I can control B. Or, I should be able to control B.