This is your Pregame Flyover of Thursday night's Texans-Eagles game, an intriguing matchup featuring two teams that have never won a Super Bowl. With a victory, the 5-6 Texans will become bowl eligible. With a loss, they'll remain within striking distance of first -- and last -- place in the AFC South. Let's look at some of the additional storylines surrounding these teams: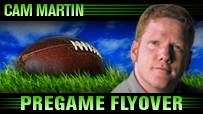 Michael Vick: Most fascinating? Barbara Walters has announced most of her yearly list of the "World's Most Fascinating People" for a Dec. 9 special that will include segments on LeBron James, Kate Middleton and the cast of "Jersey Shore." Two spots on the list have yet to be announced, however, and we can't help but wonder if Vick is one of the mystery guests. We certainly hope so. We look forward to Walters' inevitable question, "If you were a tree, what would a dog most likely do to you?"
No need to adjust your fantasy rosters: The Texans' Andre Johnson, who ripped the helmet off Titans defensive back Cortland Finnegan last week and punched him several times in the head -- a move for which he was ejected and fined $25,000 -- was not suspended by the league. No, the NFL says the NFL star is eligible to play in Thursday's NFL game on the NFL Network.
Andre Johnson in the spotlight: Fans who say Johnson doesn't get enough attention as one of the league's best wideouts should soon be satiated. After this nationally televised game against the Eagles, Johnson and the Texans play on "Monday Night Football" against the Ravens, then head to Tennessee to face Cortland Finnegan and the Titans. Johnson knows what's at stake in that game -- punch Finnegan, get ejected, and possibly earn another game ballfrom Gary Kubiak.
Arian Foster, the NFL rushing leader and former Tennessee back, can get back to his college roots: If he commits a game-changing fumble in this game.
A record that could fall in this Eagles/Texans game: Norm Van Brocklin's 59-year-old record of 554 yards passing. The Texans have allowed opposing quarterbacks to post the second-highest passer rating in the league (102.8, ahead of only Jacksonville), and their defense allows the second-most passing yards per game, ahead of only New England. Vick and DeSean Jackson should have a field day, provided Jackson doesn't go up for passes like this.