It's safe to guess the NHL was hoping for a more uplifting start to the new league-produced DVD "Alex Ovechkin: The Gr8" about the Washington Capitals superstar.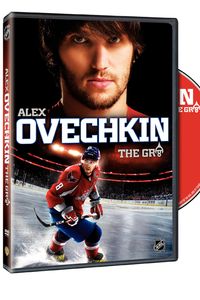 Warner Home Video "Alex Ovechkin: The Gr8" was released Nov. 16.
The DVD begins with the Capitals losing to the eighth-ranked Montreal Canadiens in Game 7 of the Eastern Conference quarterfinals, a stunning first-round defeat after the Caps had won the Presidents' Trophy for the best record in the 2009-10 regular season. When plans were made to document his offseason, producers and the league must have dreamed about a Stanley Cup celebration nearly as much as Ovechkin himself.
But Ovechkin, who is one of the league's marquee players along with Pittsburgh Penguins captain Sidney Crosby, was a good sport and let the cameras follow him around during his offseason in Russia, Las Vegas, Miami and Washington.
"It was pretty fun to spend time with my family and my friends," Ovechkin said in a phone interview last month when "Alex Ovechkin: The Gr8" was released.
Spending time with his friends and family helped ease the sting and disappointment of Washington's playoff failure, and the DVD gives fans a good look at his tight-knit family. He gets his athleticism from his father, Mikhail, who played soccer for Dynamo Moscow and his mother, Tatyana, who won Olympic gold medals in basketball for the Soviet Union in 1976 and 1980.
Fortunately for Ovechkin's historically inspired nickname and his CCM product line, Tatyana wore the No. 8 in basketball and he continued the family tradition on Russian national teams and into the NHL.
"All growing up, I played No. 8. But when I played on Dynamo, I was [No. 32] …," Ovechkin said. "When I come here, I said I'm gonna play No. 8."