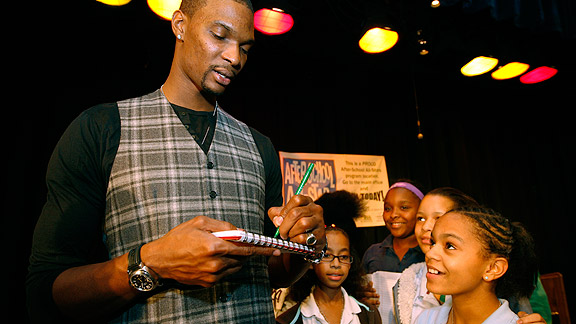 Issac Baldizon/NBAE/Getty ImagesChris Bosh participates in the Hoops Heroes Charity Event at Norland Middle School in Miami.
Miami Heat forward Chris Bosh became a resident of Miami a few months ago and he's already giving back to the community.
Bosh recently became the newest National Ambassador for "After-School All-Stars", a role that will enable him to help raise awareness of the critical need for after-school programs to keep kids safe and help them succeed in school and in life. On Friday, he visited Norland Middle School to encourage the students.
"Visiting these children let me see first-hand what an impact 'After School All-Stars' has on the youth in keeping them in a safe and uplifting environment in their own schools," Bosh said. "I was able to tell these kids how important a good education is, and for any kid that is interested in sports, doing well in school is a must."
In addition, Bosh has agreed to donate $20 for every rebound he makes during the regular season, as part of the charity's Hoop Heroes fund-raising program for NBA players. Teammates LeBron James and Mike Miller also are part of the program.
"Being a part of Hoop Heroes allows me to give back while I do what I love on the court," Bosh said, "and gives my fans a chance to give back with me every time I score."