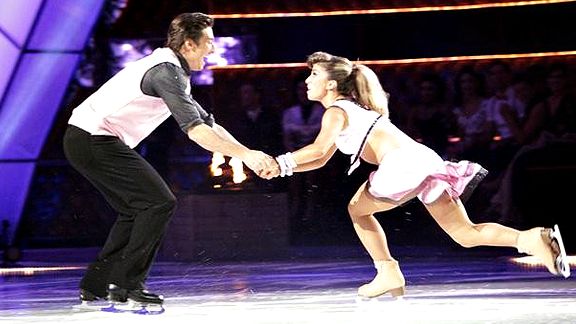 ABC/Adam TaylorJonny Moseley and partner Brooke Castile know that a slipup could cost them.
With only five competitors remaining on ABC's "Skating with the Stars", the only athlete -- Olympic champion skier Jonny Moseley -- knows he can't slip up even once.
"I had a severe wake-up call recently in practice. On one of those jumps, I had no power. My body just gave out. That's the scary part of this competition," Moseley said. "The hardest part is when you miss something, how do you get past it? When you're skiing, it's 30 seconds. Out here, we're competing for a minute and a half."
Actress Rebecca Budig has been the star of the show so far, with Moseley and Disney star Brandon Mychal Smith fighting for second. Reality star Bethenny Frankel and rock star Vince Neil bring up the rear. Actress Sean Young was the first one kicked off last week. On Monday, they will try to tell a story with their skating, and someone also will be sent home.
Budig has capitalized on her diminuitive size. She's about 5 feet 1, looking natural with her partner Fred Palascak.
"That's going to be my biggest problem. I don't look natural making these moves," said Moseley, who is 5 feet 11. "The same I could see for Rick Fox and Kurt Warner on 'Dancing with the Stars'. Something about our build makes it look weird when we do these dance moves. I'll just need to work harder."