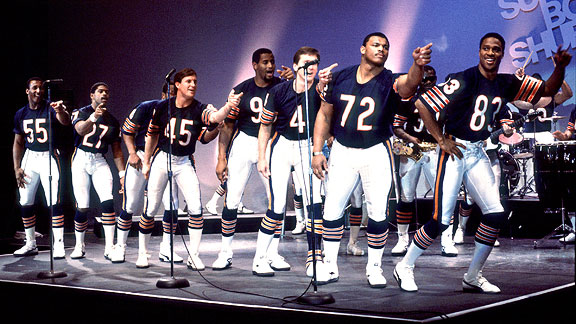 Paul Natkin/Getty Images"Now I'm as smooth as a chocolate swirl/ I dance a little funky, so watch me girl." Uh, okay.
CHICAGO -- On the night Julia Meyer finally had enough, she was watching television.
Mindlessly flipping through the channels, trying to fall asleep, she stumbled onto a home shopping channel special featuring a framed collection of photos from the 1985 Chicago Bears. Included was a shot from the "Super Bowl Shuffle" music video her deceased husband had written and produced. Meyer hopped out of bed, pressed her nose up against the television screen and, as the copyright holder for all things "Shuffle," took a closer look.
It was indeed a photo to which she owned the rights. She was livid.
"I watched for a few minutes, found out who was behind it and then I did exactly what Dick would have wanted me to do," she said. "I tracked down my lawyer."
It was 25 years ago this month that Richard "Dick" Meyer, Julia's husband and a former executive at Jovan fragrances, convinced wide receiver Willie Gault and a bunch of his teammates to shuffle on down to the Park West Theater to sing, dance and rap their way into pop culture history.
The result was arguably the most successful marriage between sports and pop music ever. Gault boasted he was "as smooth as a chocolate swirl," Walter Payton compared running the football to making romance, William Perry insisted he was "no dumb cookie" and Dick Meyer had a hit.